New for 2023!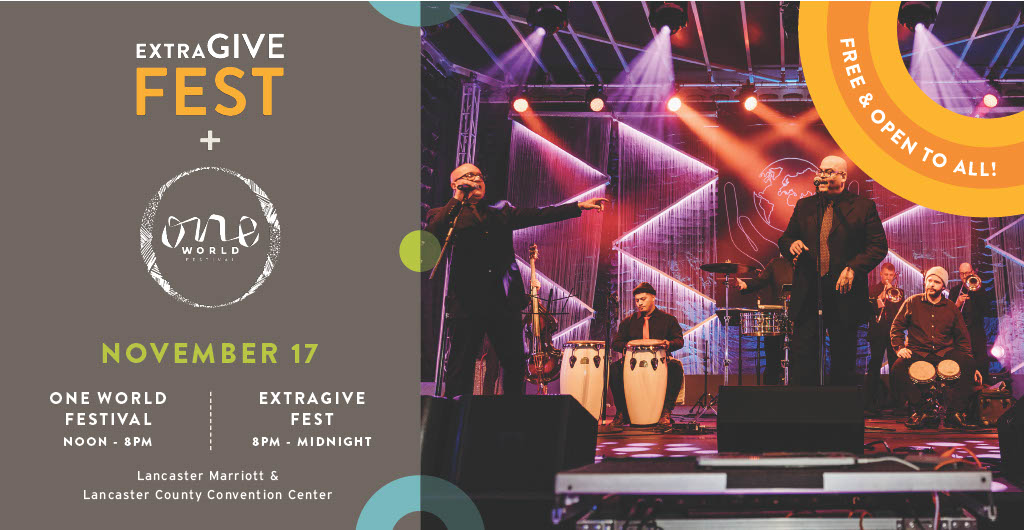 Join ExtraGive FEST+One World Festival to celebrate Lancaster County's generosity and cultural vibrancy!
During the ExtraGive on November 17, people can enjoy a dynamic experience including live music and dancing, giving stations, global cuisines, family-friendly activities, international vendors, cultural experiences, and the final ExtraGive donation countdown at midnight.
Free and open to the public at the Lancaster Marriott and Lancaster County Convention Center.
Performers include: Ronnie Sakamoto (Hawaiin Music and Song), Kent Nazereth Spoken Word, Jordan Taylor Ghana (West African Folk), Ian Sanchez (One World Song), World Dance Lancaster, Middle Eastern Dance Group, Rasika Indian Dance, Paloma Traditional Irish Dance, Shree Academy (Asian Indian Dance), Greek Dancers, Jasmin Pantoja Latin Dance , Bumbada African Drummers, Selahart Korean Drummers, Natyashala Indian Dance
ExtraGive FEST: 8 pm – midnight
8 PM Infamous Unstoppables
8:30  Street Beans
10:30 Mama Tried (till Midnight!) 
ASL Services will be available courtesy of Keystone Deaf &Hard of Hearing Services
Parent Pods will be available for those nursing, pumping, or need a quiet space.
ExtraGive FEST + One World Festival from LancFound on Vimeo.
Are you hosting an ExtraGive event?
Submit your information and we'll post the details below!
---
ExtraGive 2023 Events Calendar